$$  NEED  CASH  FOR  BUSINESS  ?
                   (631)  276 – 1800
 Will There Be More Episodes Of The Devils Ride ?
By Jeff Thompson
  The big question right now for fans of the Discovery Channel show, The Devils Ride, is will there be more episodes of the show after the end of season one ?   The show has become very popular
among people who ride motorcylces and those who dont.   While the surveys that predict if people
like the show have remained fairly static, or evenly based, the number of people who have tuned into
the show has surpassed estimates by many hundreds of thousands.  The Devils Ride show, featuring
The Laffing Devils MC (motorcycle club ) has also generated alot of controversy.  Because of the drama between
club members, the new club being started by Gypsy, The Sinister Mob, is generating alot of interest in the
show, and controversy about if Gypsy is disrespecting his brothers in the Laffing Devils.  
  Update:  According to the Discovery channel, there will be a second season of The Devils Ride.  With over 2 million weekly viewers,
the show is one of the most popular reality tv shows that the Discovery channel has yet to air, even competing with
Producers David Pritikin, Eric Bischoff, and Jason Hervey must be amping up for the second season of The Devils Ride.
On Wednesday, June 20, 2012, repeats of season one of The Devils Ride were aired all afternoon.  It was probably
a way to keep viewers interested in the show, but also  to keep the excellent momentum that the show has with Discovery channel viewers.
Fans and non fans alike will be happy to know that The Devils Ride is heading for season two.  The drama between
 Gypsy, Hawkster, Billy the Kid, Danny Boy, Snubz, and other members
of the Laffing Devils MC and Sinister Mob MC will continue for at least a few more episodes.
Jeff Thompson, staff writer for reality tv magazine online
The Devils Ride Last Episode of Season One
Juice Dies
by Douglas Gleason
  On the final episode of the first season of The Devils Ride on the Discovery Channel, there was lot's of action, as viewers have come to expect from the show and it's erstwhile cast of the Laffing Devils MC.  The first scenes of the show focused on Juice, whose name was Charles Krebs III,  and his hard living lifestyle.  Most people did not know how foreboding the scenes where with Juice having dinner with his father and talking about his heart condition.  The little mini dramas of earlier episodes and talk of cuts, patches, colors, and who was disrespecting who took on meaningless proportions in this episode as we got some final glimpses of a man that  will only be truely remembered best  by his friends and family. 
Juice, whose real name is Charles Krebs III,  was talking to his father, who he hadn't seen in three and half years.  It was a touching moment to see a father and son reunited after such a long time.  Viewers were both touched and scared for Juice at the moment when he told his father about his heart conditions, and the fact that the doctors wanted to see him again right away.  Many viewers of the devils ride could have been concerned at that point because of all the publicity that the Discovery channel was giving to the fact that a memeber of the Laffing Devils MC had passed away.  Regardless what anyone thinks about the show, The Devils Ride, it was a touching moment to see Juice in what might have been his last moments alive.  Clearly Juice must have loved guns, because when he went to blow up some milk and juice jugs with shotguns and rifles, it was more about seeing him in his last moments as a happy man spending time with his friends and his father.  We hope that everyone wishes well for Charles Krebs and his family, for he will cast a long shadow on the devils ride show for as long as it is on tv.
m
Bischoff-Hervey, Discovery rev up for "The Devils Ride"
May 8, 2012 by Kelly Anderson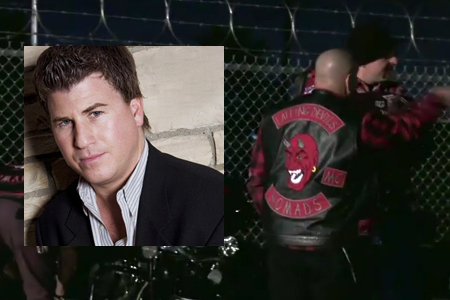 Discovery Channel has bet twice on the popularity of FX's scripted show Sons of Anarchy, firstly with an upcoming series from that show's creator, Kurt Sutter's Outlaw Empires, and now with The Devils Ride, which premieres tonight (May 8) in the U.S.
From Bischoff-Hervey Entertainment (BHE TV), The Devils Ride follows the characters of a San Diego motorcycle club, the Laffing Devils, as they allow cameras inside their organization.
BHE TV's Jason Hervey (pictured above, inset), a former child star who serves as executive producer on the show, says that he and his business partner Eric Bischoff have been long time fans of the biker community before they got an introduction to the motorcycle club members, who include Gipsy, Billy the Kid and Snubz, among others.
From there, Hervey says he knew he was in for an adventure when the very first thing the gang said to him was: "We aren't the f*****g Kardashians, brother – we're the real deal."
"They take a lot of pride in their club," Hervey tells realscreen. "There is a lot of respect and protocol that goes into interacting with them. Essentially there was a big process about trust, because they didn't want to look silly or do a 'typical reality show.'"
He adds that it was a "delicate balance" ensuring that audiences got a glimpse into the Laffing Devils' lifestyle and hierarchy, while also preserving the motorcycle clubs' mystique and secrets. Even more importantly, the club didn't want to feel like they were selling out.
While the fictional Sons of Anarchy follows a lawless motorcycle gang, in this documentary series, cameras are following a motorcycle club and not a "gang."
"They are not a gang, but I will tell you they are a fierce group of individuals," says Hervey. The biggest challenge, he adds, is that with Sons of Anarchy likely to be on viewers' minds when watching The Devils Ride, it's been difficult to manage expectations of the looming presence of the FX series.
"When you have [Sons of Anarchy as] the only show that it can be compared to, there are things that are in that show – gun-running, drug mules and murder – that's a really tall order to be compared to, and if we don't produce our show right, people can feel like they're let down if that is not what's delivered," he says.
However, he asserts that "the bottom line is if anyone is a fan of kick-ass drama or action in their shows, they're going to love this."
Also on BHE TV's slate is The Catalina for The CW Network, launching at the end of May. The reality series focuses on the dramatic staff working at a South Beach hotel.
Tags: BHE TV, Bischoff Hervey Entertainment, Discovery Channel, Jason Hervey, Kurt Sutter's Outlaw Empires, Sons of Anarchy, The Devils Ride
For more information in the Contact directory:
Discovery Channel
Read more: http://realscreen.com/2012/05/08/discovery-gambles-on-motorcycle-clubs-for-the-devils-ride/#ixzz1wtovjM6S
What are motorcycle club colors?
by Matt Sailor

Image Gallery: Motorcycles
You're driving down a long stretch of highway on a clear summer day, when you hear the sound of distant rumbling. It's not a pop-up thunderstorm, but a posse of a few dozen bikers, coming up behind you in the rearview. But how do you know if you're dealing with a group of weekend warriors blowing off steam between shifts at the office, or with a show of force by a motorcycle gang like the Hells Angels? One way is by looking at the "colors" that the bikers have sewn to the backs of their leather or denim jackets.
In the wake of a small 1947 riot involving bikers at a Hollister, Calif., rally, the American Motorcyclist Association released a now-famous statement. Ninety-nine percent of motorcycle enthusiasts were average citizens having a bit of fun, the AMA said. Only a small 1 percent was responsible for problems like what happened at Hollister. Once these "outlaw motorcycle gangs" (OMGs) began forming over the following decades, they embraced the 1 percent label, and began calling themselves "1 percenters" and wearing a diamond-shaped patch that said "1%" usually on their jacket lapels [source: Thompson]. The "1%" patch was one of the earlier forms of motorcycle club colors — elaborate sets of patches and designs that bikers wear to make their affiliation with one club clear.
Before Hollister, the original outlaw motorcycle gang, the Outlaw Motorcycle Club, wore patches on the backs of their workman's coveralls as far back as the 1930s. These were not the elaborate designs that clubs use today, but simpler patches with the club name [source: Dulaney]. Over time, the patches began to evolve. The Outlaws, taking a cue from a Marlon Brando movie, started wearing a logo they called "Charlie," a skull and crossbones design with the crossbones replaced by pistons [source: Dulaney]. From there, colors became more and more commonplace among biker clubs.
Today, club colors are powerful symbols of OMG identity, a way to brag about affiliation and warn rivals to keep their distance. Recreational clubs that don't engage in criminal activity often have their own versions of colors, too. But this article will focus on the outlaw gangs, and how they use them. Read on to learn more about how motorcycle clubs use their colors to keep control of their territory, keep members in line and intimidate their enemies.
It's a bike club. It's a brotherhood. It's "THE DEVILS RIDE" premiering Tuesday, May 8 after "DEADLIEST CATCH" at 10pm e/p on Discovery. For the first time Discovery goes inside the world of motorcycle clubs with the members of San Diego's Laffing Devils. "THE DEVILS RIDE" sports a diverse crew but one bonded by a commitment to each other and the club. Meet Laffing Devils president Gipsy, who must balance the club's growing ranks with pressure from older members to maintain the status quo. An ex-Marine who served in Iraq, Gipsy credits the club for helping him deal with the emotional scars of war. Then there's club VP, Billy the Kid, who waits in the wings wondering if he'll have the chance to lead the Laffing Devils. And younger member Snubz breaks all the biker stereotypes with his degree in finance and a full time corporate job. (Source: The Discovery Channel)
'The Devils Ride': SOA creator Kurt Sutter tweets opinion of Laffing Devils
By
Mechele R. Dillard
on 2012-05-22
There is a lot of controversy about Discovery Channel's new reality show, The Devils Ride, but Kurt Sutter, creator and executive producer of the FX series Sons of Anarchy, is definitely not a fan.
Fans and not-so-much-fans of the new Discovery Channel reality series The Devils Ride are letting executive producer Eric Bischoff know what they think of his foray into the world of motorcycles, outlaw motorcycle clubs (MCs) and the structure that defines this brotherhood on two wheels. Now, Kurt Sutter, creator and executive producer of the FX series Sons of Anarchy (SOA), has gotten into the act.
"Watched DEVIL'S RIDE," Sutter tweeted on May 21. "Probably get in trouble for saying this, but i'm pretty sure my SOA actors could kick the s[***] out of this 'real' MC."

Is Sutter throwing down the gauntlet to Bischoff and the rest of The Devils Ride executive producers (Jason Hervey, Steve Stockman and Daniel Soiseth)?
Thus far, a Twitter war has not ensued, but no doubt fans—and anti-fans—of both Bischoff and Sutter's work will have a point of view on Sutter's tweet. At least one Huliq reader agreed with Sutter's comment before he even made it:
Big Red Machine Supporter:
I think i like the ppl who sport the soa colors better, i think the actors are harder then the ppl from the laffing clowns.
And, fans have also commented on Eric Bischoff's participation in this project, pre-Sutter tweet:
Anonymous:
Laughable. everything is staged. Its more fake then wrestling. The Discovery producer Eric Bischoff WCW, WWE, TNA wrestling expects us to believe Rusty Coones needs the wanna be fake, posers, LD to get a bike back.?? Ya right.
Yura Dork:
Maybe…just maybe the producer (Eric Bischoff) will read a few of the comments here and try not to inject so much of the silly drama and go for a bit more reality. Of course he is a huge drama king…remember wrestling in the late 90′s early 2000′s? …all that hype (Hulk Hogan, Randy Savage etc…) was a product of Bischoff.
So, where does all of this lead the on the reality show road? One Huliq reader thinks he has the answer:
Anonymous:
I already see where this is going. Gipsy quits the LD's, starts another club, one that rivals the LD's, those loyal to Gipsy also quit the LD's (most likely the ones who didn't vote for Snubz as new V.P. will join Gipsy) continual trash talk, another major 1%er club steps in and takes the LD's cuts and Gipsy's new clubs cuts!
This is going in the same direction as American Chopper and Miami Ink.
Interesting idea.
Will, in fact, The Devils Ride go the way of American Chopper and Miami Ink? Or will the brotherhood unite once again?
Stay tuned.
The Devils Ride airs a new episode tonight, Tuesday, May 22, at 10 p.m. E/P.
Image: Wikimedia Commons, Photographer Gage Skidmore
  Did  The Hells Angel Rusty Coones Add Credibility To The Show The Devils Ride ?
Rusty Coones, Hells Angel and president of a California chapter of the world-wide MC, appeared on this week's episode of the Discovery Channel's The Devils Ride. With all of the controversy that has flared over the show—are the Laffing Devils a real MC, or are they a made-for-television fictitious club—does Coones appearing on the show add to its credibility, or does it take away from MC clubs' credibility overall?
In 2006, Bikernet interviewed Coones. The reporter was admittedly intimidated by Coones and the prospect of causing more trouble than he could handle, offering this as a way to assuage any future rumblings:
"I am a little nervous in taking on this task. I do not want to ruffle any feathers. On the other hand, I'm honored to interview the president of the Orange County Chapter of the Hells Angels."
It is understandable, one would concede, that a person would be nervous about interviewing someone identified so completely with a MC like the Hells Angels, a notorious one-percenter club, capable of who knows what. The American Motorcyclist Association, coined the phrase "one-percenters" when they said that 99% of motorcyclists were law-abiding citizens, while the other one-percent were outlaws who subsequently gave all motorcyclists a bad name.
But, does the association with a television show like The Devils Ride take away from that reputation?
What Is Credibility for a MC?
It is interesting that so many critics of the show seem to consider the Laffing Devils to not be a "real" club simply because they are not one-percenters. Presumably, the majority of motorcylists would not be one-percenters—a full 99 percent, in fact. And, the fact that they never claimed to be a one-percenter club doesn't seem to assuage the harsh feelings being thrown their way. No doubt anticipating this reaction, producers brought Coones–who also appeared previously on an episode of the FX show Sons of Anarchy–on board for an early episode, hoping this would give their club credibility; it has not worked for many viewers.
But, what does it do for Coones and the Hells Angels?
The Hells Angels are a world-wide organization, with various chapters; Coones was founder of the Orange County chapter and is president of the San Fernando Valley chapter—at least, he was president as recently as August of 2011, according to OC Weekly, where he gave an interview, and talked about how he found his love of motorcycles; his long history with local police; drugs and prison; the bike built for him by Jesse James; and his business, Illusion Motorsports.
It was via Illusion Motorsports that Coones came into the mix on The Devils Ride, giving the Laffing Devils a repo job to complete and, no doubt, prove their worth as an MC. They did complete the task; did it work?
Some Huliq readers do feel that having Coones "vouch" for them by appearing on the show as he did adds to the validity of the Laffing Devils, as comments on a recent story seemed to indicate:
by Mechele Dillard
Anonymous:
Maybe someone should give that question to Rusty Coones. It's pretty obvious that the LDMC antics have been endorsed and approved by the local 81′s.

Gene:
The guy who sent them to get the bike is a hells angel. Now all u knob slobbers will change ur comments.

Anonymous:
Well, all you have to do is google Rusty, pulls up his business and his whole life. Pretty interesting reading. He is the real deal and it appears SOA closely follows his "former" activities…

But, not everyone agreed that Coones' participation meant a reconsideration of the Laffing Devils' credibility:
Anonymous:
So Rusty was on tv, therefore, FAKE as well…right? If Rusty is HA then the HA has also reached a new low and must be slobbin on the laffing devils knobb as well.

Whether or not the Laffing Devils are "real" or "fake" is hard to say at this time. And, perhaps the participation of Rusty Coones, notorious Hells Angel, does confuse the issue a bit. However, in the end, it is television, "reality TV" or otherwise, and ultimately meant to entertain.
Stay tuned.
Image: Wikimedia Commons